I've been a singer since day one. That isn't to say I was a good singer that whole time — my mom likes to say that when I was a baby, my crying sounded similar to "a pterodactyl with laryngitis." Charming, I know.
After I moved past my hoarse dinosaur stage and made it to first grade, I joined a series of children's community choirs at a local church. I stayed in those choirs for 10 years, and learned most of my musicianship and stage presence in that group performing everything from Handel to Michael Jackson.
In fifth grade, I was introduced to the trumpet. I loved band immediately. Most of my time in middle school involved running back and forth between different musical groups and soccer, a theme that would continue throughout high school and has persisted now into college.
Joining the marching band was a new experience that made me feel immediately welcome at Cal, but I still wanted to find an outlet for singing. That outlet ended up being DeCadence, a golden-cape-wearing, vibrantly wacky a capella group on campus. I decided to audition after watching them perform a couple times (including a convincing concert called ShreKadence) and seeing how much fun the group had onstage together.
DeCadence is amazing because it's full of incredible voices, solid musicianship, and staunch dedication to each other and the group. During auditions and once I joined, everyone was endlessly kind, helpful, and really fun to be around. I even found a partner for CS61A projects there! The band has its own wonderful community, and in joining DeCadence I found another that instantly made me feel like part of the family.
Part of what I love about Cal Band and DeCadence is the emphasis on the group taking charge of every part of creating our music. Everyone takes a role in helping the group flourish, and it's a really inspiring, helpful environment to learn more about music, leadership, and teamwork. DeCadence arranges all of our own music, creates our own choreography, manages our own gigs and business, and produces one big semesterly concert.
At this final concert, we act out a Berkeley-humor-infused skit in between songs to amuse our friends, family, alumni, and the people who were nice enough to accept our flyers on Sproul. My first end-of-semester concert was themed as DeCadence in Space, and featured us as characters from movies like Star Wars and Wall-E, cracking jokes, saving the galaxy, and singing some great music.
We also perform every Wednesday at noon under Sather Gate — come watch us!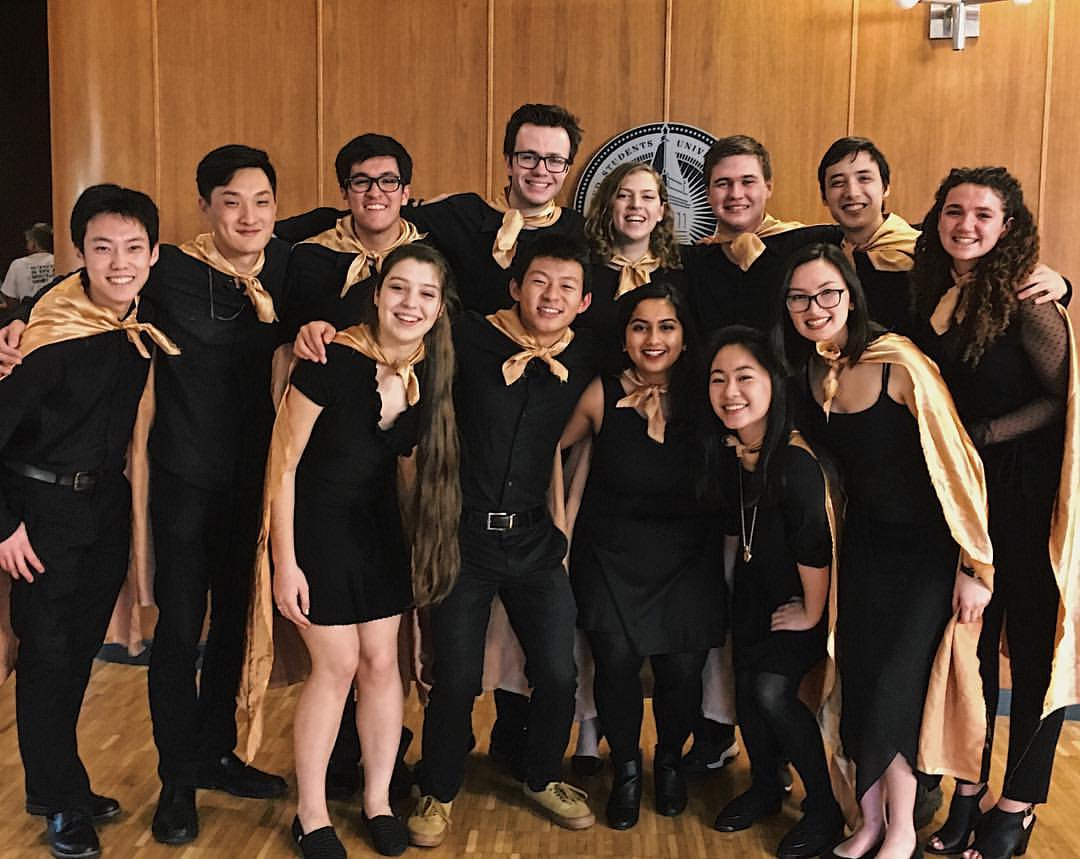 DeCadence is like band in that we have a lot of groups and individuals ask us to come sing at events ranging from prospective student events to 70th birthday parties. My favorite gigs so far have probably been the freshman overnight stay programs because I've seen a couple prospective students I knew at almost every one. Often I would perform for them with DeCadence and Cal Band, which meant I got to show them my two favorite things about Cal.
Balancing DeCadence, band, and academics in the spring was a bit of a challenge, but it was always worth it. Most of my free time was split between studying, Straw Hat Band performances, and DeCadence gigs, but that was what I was interested in anyway. Performing meant that I was with some of my best friends doing something I loved, and after we were done, we'd continue hanging out. It was busy, but never a burden.
Singing has always come naturally to me, and I've felt at home onstage for as long as I can remember. Whether I'm in the background or the center soloist, group singing just feels good. While playing in band is amazing in its own way, vocals differ because of how unique each individual's voice sounds, as a soloist and as part of the group blend. Singing is a way to personalize a song in a way that others can't quite replicate.
In the fall of my second year at Cal, I'm planning on fitting both groups into my schedule. Next semester, I'm also taking on leadership in both groups as a DA in Cal Band and a concert coordinator in DeCadence. I just can't help but want to be more involved in both organizations — they're incredible groups of people and fantastic ways to express the music I love so much.
It's going to be challenging, but I'm used to handling my love affair with trumpet-playing and singing. I'm excited to continue with both for as long as I can with all the California Spirit I can muster up.
GO BEARS!
Aria Frangos, Trumpt '16