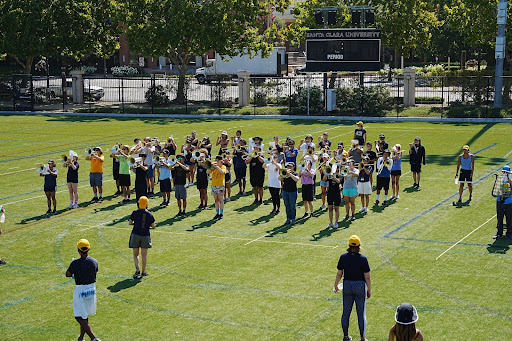 Before our marching season begins, the Band holds its annual Fall Training Program (FTP)!
The entire Band goes on a three-day retreat where new band members are given a crash course in our marching style and returning members get the chance to remember and perfect their marching form.
FTP 2023 is set to take place from August 10th-14th at UC Berkeley and Santa Clara University. There will be a percussion-only check-in on August 10th at the UC Berkeley campus, a full band check-in on August 11th also on campus, and in the morning of the 12th, the band will take buses to and from the campus of Santa Clara University. Food and lodging will be provided.

No prior marching experience is needed, as our High Step form is unlike almost any high school style anyway. The Band also takes the opportunity of FTP to rehearse our extensive musical repertoire in preparation for the new semester. Music rehearsal is always a great time as we teach our new members our favorite songs and horn flashes!
After FTP, the Band returns to Berkeley and begins rehearsals to learn our pregame and halftime show. Students often find this time helps in orienting them with the University and their new community of band members before classes begin. Instant friends, dining hall buddies, or study partners are often immediately made this way.
You will hear more details about FTP after the standard audition deadline, which is July 9th at 11:59 PM. If you are interested in joining the band, please fill out an interest form for more information!
If you foresee any scheduling conflicts, an alternate marching program is available.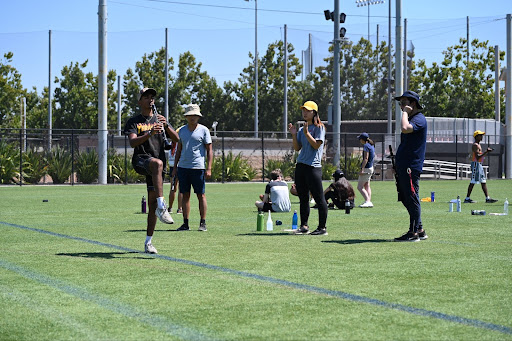 ---
What to expect at FTP
Learn how to march in the classic University of California style — highstep!
Get introduced to our favorite songs with band members who are excited to be playing again after the summer break!
Make new friends among your recruiting class, your section, and the band as a whole
Achieve a great tan for the first day of school (;
---
What to bring to FTP
Comfortable athletic clothes (shorts, t-shirts, leggings, sweatpants, etc.)
Athletic socks and shoes
Hat and/or sunglasses
Sunscreen!
Pajamas
Bath towel
Flip-flops (for use in dorms)
Water bottle
Toiletries: shampoo, soap, etc.
Sleeping bag, pillow, linens
Your instrument (unless the Band is providing one)
Energy and a "Go Bears" attitude!
Absolutely NO red clothes! BEAT STANFORD!