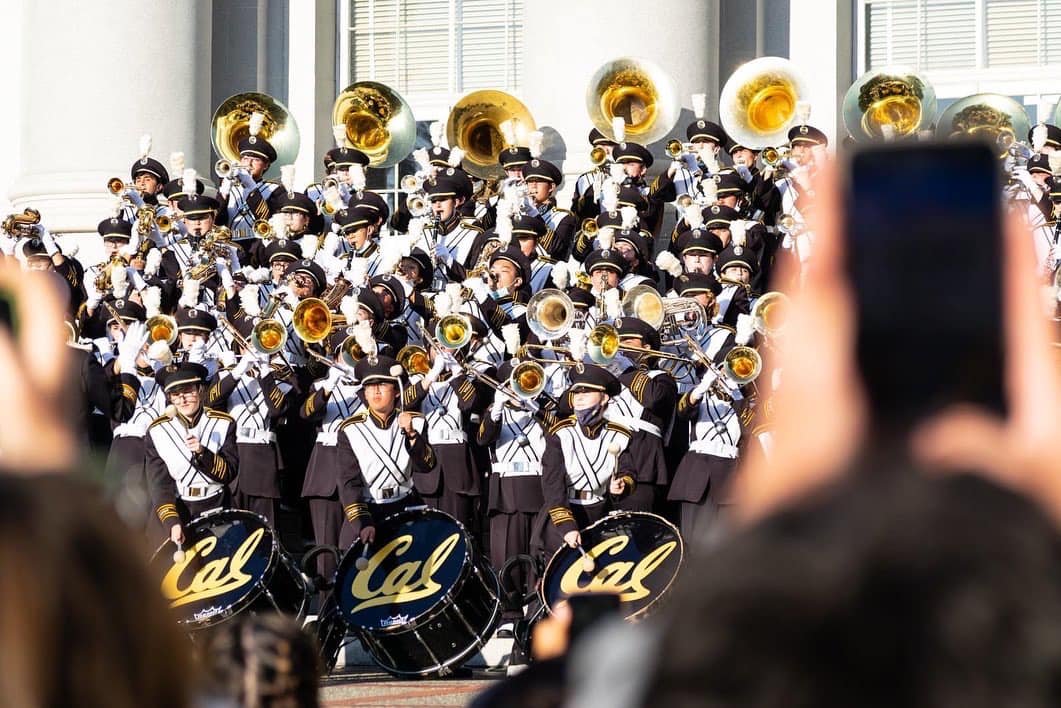 Eighty cents of every Cal Band dollar comes from private donations and endowment income. The remaining twenty comes from the University and Cal Athletics.
The Cal Band Fund supports our activities and operations throughout the year. We rely on supporters like you to supply our members with instruments and resources, and to travel far and wide. Thank you for your generous support!
Instrument Refresh
Photos by Brittany Hosea-Small
Our current instruments are well-worn and require frequent (and increasingly costly) repairs. Band members often go without their instrument for several rehearsals at a time because it is broken or in the repair shop (again). A number of Cal students are discouraged from auditioning for the Band at all when they learn that we are unable to provide them with an instrument, or can only provide them with an instrument that is substantially worse than the one their high school program provided to them. New instruments will help us recruit new members and make the Cal Band larger, louder, and more accessible.
You can help in several ways:
Donate funds for an entire section—what a lasting legacy that would be for you and your family!
Organize your friends, family, graduating class, coworkers, or Cal Alumni chapter to purchase a section!
Make a donation toward the individual instrument of your choice!
Whichever you choose, when you hear and see those new instruments on Sproul Steps and inside Memorial Stadium, you'll know that you were instrumental in helping the Cal Band create the best sound and performance possible.

32 Piccolos — $28,288 | $884 ea. – Thank you!
32 Clarinets — $38,976 | $1,218 ea.
32 Alto Saxophones — $87,456 | $2,733 ea.
16 Tenor Saxophones — $49,904 | $3,119 ea. – Only 6 more to go!
32 Trumpets — $72,288 | $2,259 ea. – 24 more to go!
16 Mellophones — $37,296 | $2,331 ea. – 12 more to go!
24 Trombones — $70,608 | $2,942 ea. – Thank you!
16 Bearitones — $37,296 | $2,356 ea. – 12 more to go!
12 Basses — $101,952 | $8,496 ea. – Thank you!
4 Glockenspiels — $5,560 | $1,390 ea. – 3 more to go!
12 Snare Drums — $18,708 | $1,559 ea. – 9 more to go!
6 Tenor Drums — $10,974 | $1,829 ea. – 5 more to go!
6 Bass Drums — $7,194 | $1,199 ea.– Thank you!
12 Cymbals — $10,308 | $859 ea. – Thank you!
—Subtotal: $577,208
—Sales Tax: $57,720
—Grand Total: $634,928
The prices listed above are approximate and include mouthpieces, ligatures, harnesses, sticks, mallets, straps, stadium stands, travel cases, and other essential accessories.

Additional Giving Opportunities
For information about these and other giving opportunities to the Cal Band, please contact Gift Services at 510-643-9789.
The Briggs Family Scholarship | Presented annually to the best first-year performers in upper woodwinds (clarinets and piccolos), lower woodwinds (alto and tenor saxophones), and percussion.
The Cal Band Endowment | Principal from the endowment ensures long-term financial support for the band. Annual interest from the endowment provides support for band activities throughout the year.
The Robert Calonico Director's Fund | Honors Cal Band Director Emeritus Robert Calonico, to be used at the discretion of the director.
How to Donate
All donations to the Cal Band are tax-deductible as allowed by law. If you would like to make a donation to the Cal Band, you can either use an online form or mail a check to the Band.
To mail a check to the Band, please make your check payable to UC Berkeley Foundation, write "Cal Band" on the memo line, and mail it along with a Giving Form to:
UC Berkeley Gift Services
1995 University Avenue, Suite 400
Berkeley, CA 94704-1070

For further assistance, you may call Gift Services at (510) 643-9789 or visit their FAQ page. You may also contact the Band directly if you have specific questions about our funds or would like to discuss your gift.
Thank you!
---
Legal Disclaimer: The information you will provide will be used for University business and will not be released unless allowed by law. A portion of all gifts is used to defray the costs of administering the funds. All gifts are tax-deductible as prescribed by law (see below).
The 1993 tax law requires that donors are notified of the tax-deductible portion of their contributions. If you wish to take a full deduction for your contribution in lieu of tangible benefits, please note when you make your contribution! All gifts to the University are tax-deductible within certain limits provided by law. It is the policy of the University of California, Berkeley that a portion of the gifts and/or income therefrom is used to defray the costs of raising and administering the funds. The 1977 California Information Practices Act requires that UC Berkeley inform individuals of the following: Furnishing the personal information requested on the form is strictly voluntary. The information will be used by University departments for University business, for fundraising purposes, and for updating UC Berkeley's alumni and donor records. The information will not otherwise be released unless required by law. University policy authorizes maintenance of this information. You have the right to review your record. Inquires should be sent to: Assistant Vice Chancellor-Development University of California, Berkeley University Relations 2440 Bancroft Way MC4200 Berkeley, CA 94720-4200