Academics
A common question we get is "How do you have enough time for school if you're in band?" An honest answer is that the Band gives new college students invaluable skills and resources to succeed in class.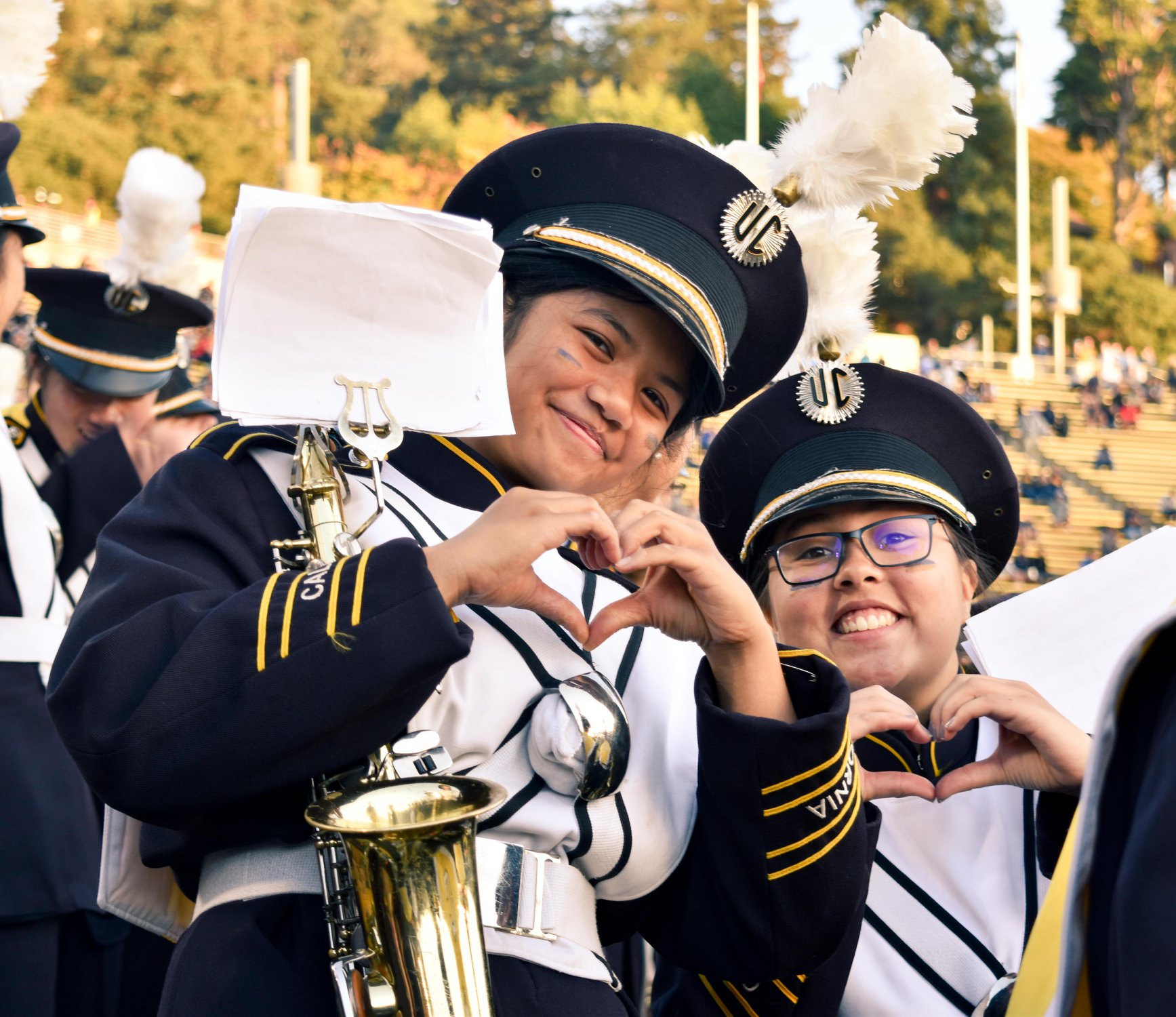 The Cal Band offers a variety of academic support opportunities. Academic advisors, study groups, review sessions, peer course evaluations, and a private band lounge are just a few of the resources we offer our members. Additionally, there is a great amount of peer support for academics among our members.
Current band members' areas of study range from Chemical Engineering, to EECS, to Molecular and Cell Biology, to Linguistics, to Rhetoric. There's always someone willing to guide and help younger members academically, whether it be helping with homework from a class they've taken already or advising on which courses and professors to look into.
55% of the Band is comprised of "hard science/engineering" majors. Because of both the size of Cal Band and our variety of interests, members often have classes together. Thus, even if the Band doesn't offer a study group or review session for a particular class, students are easily able to find study partners before midterms, papers or finals. A large percentage of our members continue on to graduate study, including medical school, law school, and other graduate programs across the country.
From performances to academics, the Cal Band offers a wide variety of opportunities to its members. Since the public at large is thrilled by the Cal Band's field shows and Straw Hat Band performances, they often overlook how hard the Cal Band members work and how much we succeed academically as students of the University.
In short, though maintaining the high performance quality of the Band is a time-consuming activity, our members' academic standards are always aided and prioritized. We maintain that you must be a member of the university to be a member of the band, so academics always come first. For more information on how we help our members to succeed at Cal, email our executive secretary at execsec@calband.org.
---
Rehearsals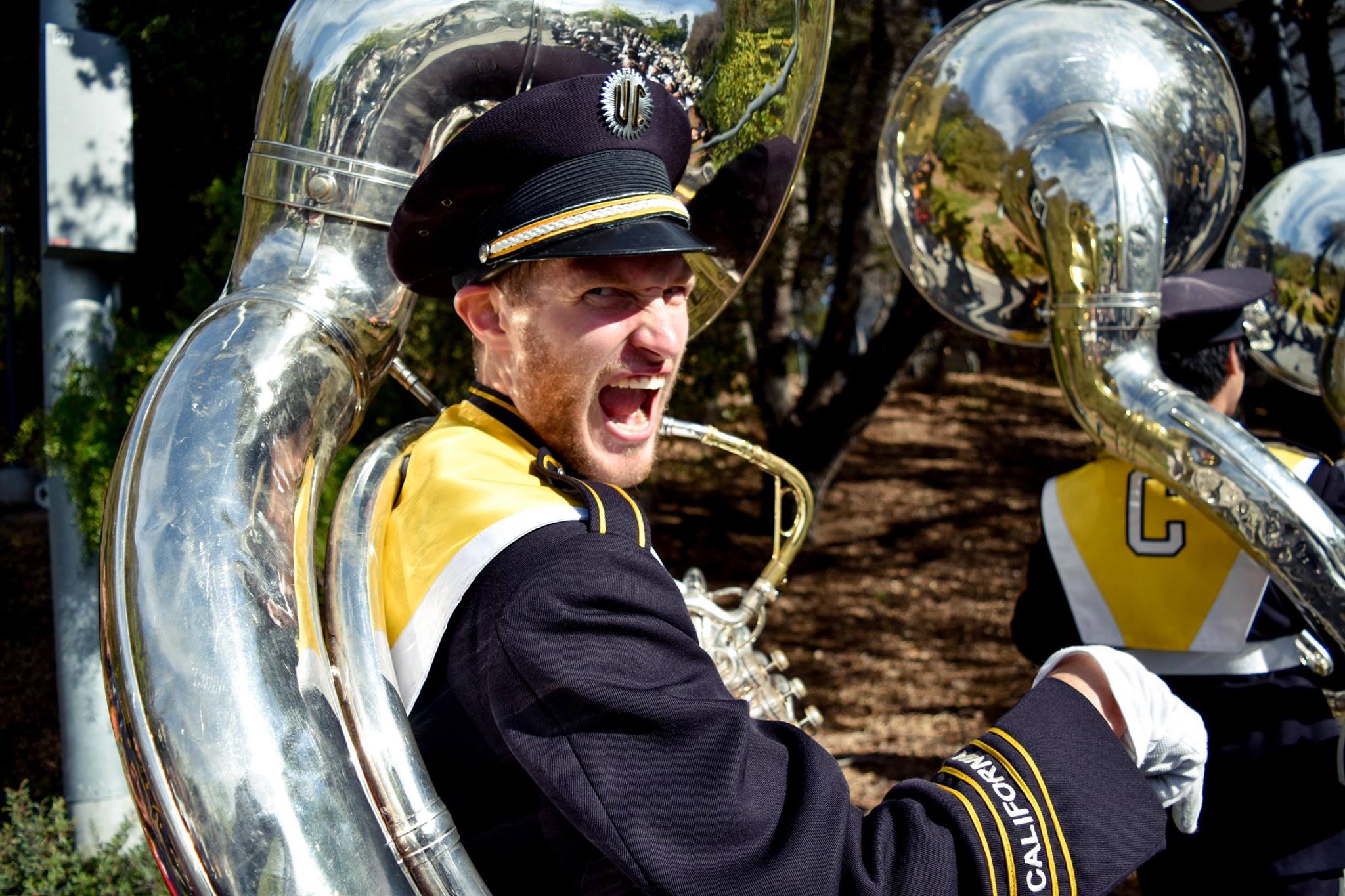 During the fall, the Band has a rehearsal regiment and a time commitment that, though heavy, can be completely manageable and rewarding for any college student. The fall season consists of music rehearsal on Monday and 1.5-hour field rehearsals every Tuesday through Thursday at Maxwell Field. On the weekends of home football games, there is an additional 1.5-hour rehearsal on Friday and, of course, game day on Saturday!
In the spring, there are no rehearsals and band members can opt to focus on academics or other interests and postpone further involvement until the next fall. It is also very easy to remain active in the band by playing at Cal basketball, water polo, lacrosse, spirit events, hired events, and other spring performances. It is definitely possible to maintain a healthy mix of band, academics, and outside interests!
---
It's Saturday Morning, Bears!
Take a look at a sample Cal Band game day schedule!
Wake up & head to California Memorial Stadium for free breakfast, courtesy of our student-run Administrative Committee!
Stick an extra Gogurt in your pocket and step into the stadium for the final run throughs of our shows.
Witness the traditional prediction of the final score for today's Golden Bear victory!
More free food! Take a break before the game and enjoy as Cal Band parents feed you a bountiful barbecue.
Get suited up in full uniform, rub the Bear's nose for luck, and head to Lower Sproul Plaza for instrument tuning.
Get pumped up with your section's lucky pre-game rituals, then listen as the Drum Major traditionally recounts their "dream" of today's victory. It's almost time!
First performance of the day: a concert for our fans with Cal Cheer, Cal Dance Team, and Rally Comm on Lower Sproul: it's Game Day, Bears!
Parade through campus for our traditional pregame march-up to Memorial Stadium, flanked by our friends and fans.
Take a quick rest in North Tunnel before thundering onto the field for our pregame show to excite the crowd! Keep the fans' energy high with music from the stands and a fun new halftime performance at every game!
End the day with a post-game performance on the field, then march-down back to the band room, followed by the many members of the audience who are waiting for our final rendition of Fight for California to officially end the night.
Go eat, shower, relax, hang out, study, or whatever — we can't wait til we're back on the field at the next football game!
For information about how to join the Cal Band or general questions you feel were unanswered, email the Recruiting Coordinators at recruiting@calband.org.