We recently had the privilege of accompanying our Women's Basketball team to Waco, Texas to cheer them on in the NCAA Tournament! After arriving on March 16th and later cinching a win against LSU, we had plenty of time to explore the Lone Star State till the game against Baylor on 20th.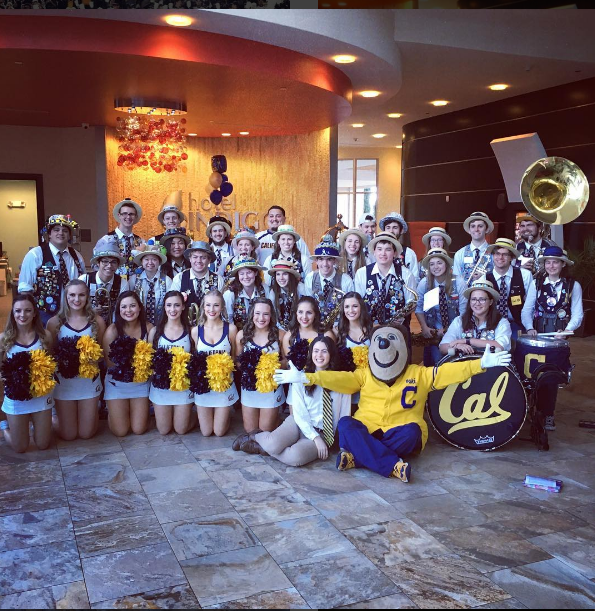 On Friday the 19th, we had the opportunity to take a day trip to Austin, though I cannot say what exactly that trip entailed since I chose not to go. However, Waco had plenty to offer. Our hotel was conveniently placed within a ten minute walk of Baylor University, the Dr Pepper Museum, and the greatest fast food hub I've ever laid eyes upon. I took this day as an opportunity to wander through Baylor's campus on a free schedule—though getting there was a surprising challenge. Upon leaving the hotel, Brent Wickemeyer (Bone '14) and I passed two crossing guards directing crowds going towards Magnolia Market, a popular tourist site run by the stars of the popular remodeling show "Fixer Upper." Beyond this point, however, we soon realized that Waco didn't appear to have any crosswalks and that pedestrians in Texas technically do not have the right of way; this left us unsure how to cross under the overpass of I-35 and the expressways surrounding it, even though we could clearly see the edge of Baylor's campus a hundred yards from us. It turns out that without crossing guards, it's trial by fire every time you want to cross the street in Waco.
The first thing we decided to do once we finally arrived on campus was to stop by the campus bookstore. This is an essential stop on every away trip, as one of Cal Band's many traditions is that we like to visit the rival's/hosting team's campus bookstore to buy pins and clearance t-shirts to remember our travels (in our second visit, Brent bought nine shirts for $2 each, which was pretty exciting). Afterwards, we turned the corner to view Baylor's two live bears, Lady and Joy, in their Bear Habitat; these bears serve as the university's mascots. The University of California, Berkeley also used live bear cubs as mascots for some time, though this practice was discontinued after 1940; as a side note, Baylor University stopped feeding their live bear mascots Dr Pepper in the mid-90s.
I found my favorite part about Waco just southwest of the edge of campus in a quaint little ice cream shop called Heritage Creamery. I just want to give a shoutout to this charming business for its friendly staff and unique ice cream flavors (such as Basil Strawberry and Salty Vanilla Bean)! This shop makes its ice cream in-house and buys from local farms, but most importantly it makes its waffle cones right in front of you! I highly recommend supporting this sweet local business and for anyone making a stop in Waco to give it a visit.
Anyway, the next day brought us to our team's first game, which was against LSU's Lady Tigers. Our team faced some tough calls by the refs that put our team at a bit of a disadvantage, but Asha Thomas made way for the team's victory by scoring 18 points, making six out of nine of her attempted three-point field goals that game. In high spirits after an emotionally exhausting game, we celebrated with cheers and many, many photos. KC Waters even joined us for one by jumping in front of the band to pose for a full-band photo!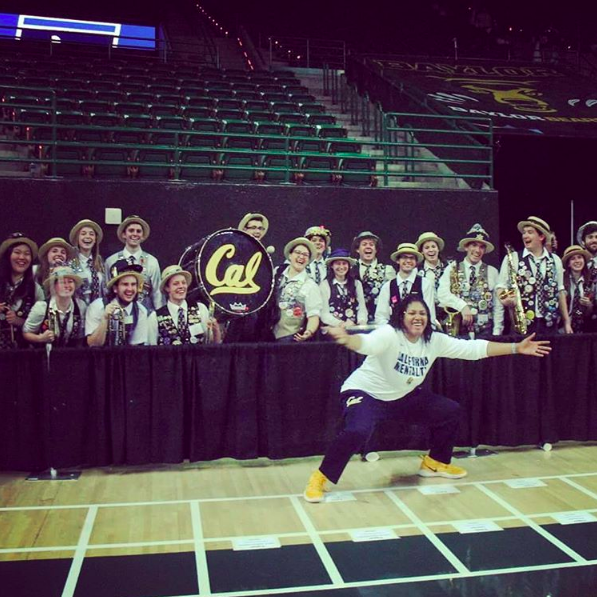 The next day, we had another opportunity for a day trip, which we decided to take to San Antonio. I definitely hopped on this trip so that I could visit Lulu's Bakery & Café, which is nationally-renowned as the home to the three-pound cinnamon roll. A small group of us made a beeline for Lulu's as soon as the bus stopped. After almost two hours' wait, we finally got a table, but it was entirely worth it! After glancing over the menus we quickly realized that Lulu's wasn't just known for its ginormous cinnamon rolls, but for its ginormous chicken-fried steaks! John Sorfleet (Bone '14) and Joyce Luk (Bone '15) attempted Lulu's "Texas Ranger Challenge," which entails trying to eat a 21-ounce chicken-fried steak, two double side dishes of your choice, and two dinner rolls all within 12 minutes. They both gave valiant efforts, but unfortunately they couldn't finish it because the steak was too tough to chew within the allotted time! Apparently the quantity of food is not so much of an issue. For any future brave eaters, the two recommend that you choose to get either green beans or corn as the sides (instead of mac 'n cheese or mashed potatoes) and to cut up the steak in advance into pieces small enough to immediately swallow. John also notes that dunking the steak into water does not help it go down easier—but it works for the dinner rolls. We celebrated their efforts with a cinnamon roll to share amongst the nine of us there. To me this was by far the high point of the day, since our love of cinnamon rolls brought a group of people together that normally wouldn't see each other, bridging the all-too-common section cliques we tend to form in band!
That next day, we said goodbye to Waco by hitting up every fast food stop we could, which helped us prep for the game (any newcomers should check out Raising Cane's fried chicken for a treat not likely to be found on the West Coast).
The game against Baylor was a tough one but our team held up extraordinarily, even in the face of what could've been a deeply demoralizing challenge. They held their own against top-seed Baylor even with Baylor's starters playing until the last few minutes of the game, and also with a roaring full audience that both Baylor Spirit and their head coach Kim Mulkey worked to rile up every now and then.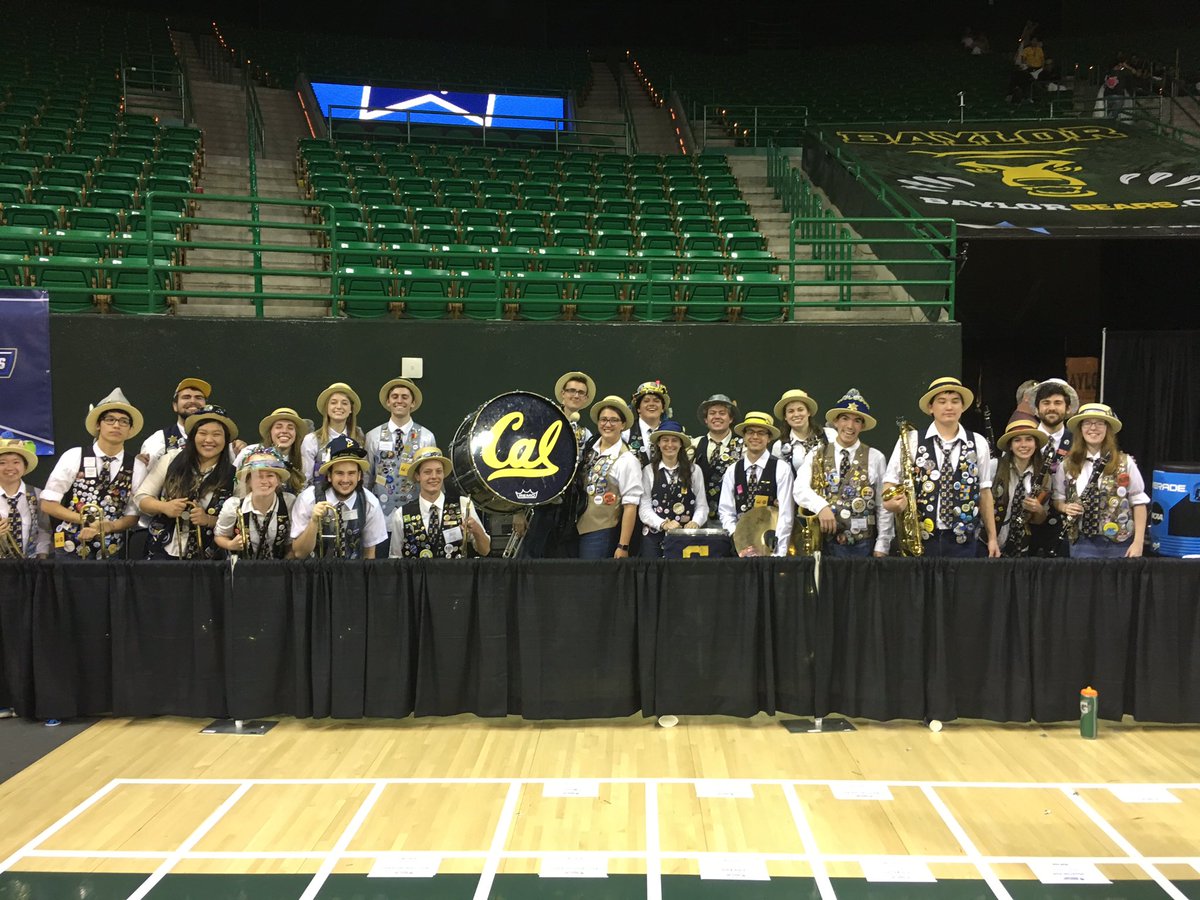 These two games in Waco made me feel it was more important than ever to be there for the team, that it felt like we were in it with them. We wanted to give them all the support they could get to try to keep their morale up in an insurmountable challenge. As one of the ~30 Cal fans in attendance (including all of Cal Spirit), it was borderline frightening to be at the game, because as nice as Baylor fans were when they spoke to us in person and individually, as a crowd, it felt like they were sacrificing our team to theirs with their rite-like chants and cheers. Baylor fans would raise their Sic 'em bear claw high in the air and then swipe it down, chanting "kill!" with every swipe, which resonated through the arena as cheerleaders looked on with toothy smiles framed by blood-red lips. Further, a small group of fans behind us started chanting "Baylor we want 100," making it seem as though Baylor fans come to see their team decimate its opponents instead of simply beat them. However, we still were individually treated very well by the Baylor fans and were grateful for their hospitality, and I really appreciated their dedication, reverence, and turnout for their Women's Basketball team.
This trip certainly made me feel more attached to our team. They really held it together and kept it classy, all the while keeping frustration at bay and their strength up. I'm so proud to represent and cheer on a team of players who are so fierce on the court and still so kind and gracious in person—I'll gladly and proudly lose my voice cheering for them every game!
I'm incredibly grateful to Cal Band and the University of California for providing me these opportunities to travel, and especially with such nice accommodations! Until this trip, I'd never been to Texas, nor had I ever slept in a king size bed. I'd highly encourage any current Cal Band member to sign up for any of our away games in the future to take part in these rare experiences—especially the basketball tournaments; as daunting as it may be to block out such a large amount of time in the middle of midterms, I guarantee it's worth it for a chance like this.
-Gwen Gettle (Bone '15)