Well, the secret is most definitely out. After a couple of agonizing months of secrecy, three full days of missing classes, and one unforgettable performance, the members of Cal Band can finally comment on their experiences as a part of the halftime show for Super Bowl 50. Here's the overview:
Day 1: Monday, January 25th
Hour 1— We are greeted by Super Bowl officials (Sean and K.P.), our participation with Coldplay is confirmed, and music and charts with our spots (poopsheets) are handed out– the excitement is tangible. Jamie Cerny (trombone '13), a member of STUNT, says "K.P., the producer that worked with us, had a very specific image in mind for the show– she gave us formations that she wanted to see on the field, and it was up to us to make them happen." Cerny, working with limited time, "translate[ed] her [K.P.'s] images into CalChart and then had to work out transitions that fit within very limited time constraints." All of this was to "make sure we didn't collide with the stage or any equipment on the field, ensure that we were in good positioning for camera shots and that we would still have time for the continuities that K.P. really wanted to feature in the show," says Cerny. A lot of things to consider for 2 minutes of fame!
Hours 2-3—We line up alphabetically and enter Maxwell. Yes, it takes this long.
Hour 4—Practice ends early! Also, we are told that we are changing everything we just learned. As Cerny notes, "it was an interesting experience, working with people who weren't necessarily acquainted with the way a marching band moves" which led "the initial concept [to be] completely out of the range of what was possible."
Day 2: Friday, January 29th
Hour 1-2—Grateful to escape the rain, we run through our music for the first time. Bob Calonico, our director, points out all the points in the music in which we're going to be featured once we record with Coldplay. As we were prerecorded for a superior sound quality, questions were then raised about what our "playing" would look like on the field…especially for the percussionists. Mimicking cymbal playing seemed a little difficult.
Hour 2-3—We're off to Memorial Stadium! Sean and K.P. were kind enough to hand out ponchos and feed us in North Tunnel. This was when we really began learning our drill. According Jessica Trinh (clarinet '12), " the atmosphere was full of energy and excitement!" Oh, and rain. Lots of it.
Hour 3-4—Soaking wet, but still not complaining (ok maybe a little bit) we gather around and learn that the next rehearsal will be in Levi's Stadium and will feature the "talent"…aka Coldplay, Beyonce, and Bruno Mars. We depart singing "Fight for California" as Sean reminds us that we'll need our "patience and a sense of humor" for the next few days.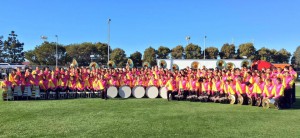 Day 3: Wednesday, February 3rd aka the LONG day
Hour 1-3— Anxious to be in the stadium and in the presence of all the performers, we are ushered from security checkpoints to a practice field to the South Tunnel then finally into the stadium. "I feel denied basic human rights," dramatically claimed Isaiah Apfel (piccolo '14), which included the "basic human right to see Beyonce." While waiting in the tunnel to enter the stadium, I ask a few clarinet and alto saxophone players to describe their experiences in one word. Responses ranged from "unbelievable" (Megan Dorn, alto '14) and "memorable" (Sarah Manthorpe, alto '15) to just "good" (Margo Oka, clarinet '15). Kathleen McCully (clarinet '14) said her word would be "'emotional'" once she "got to meet Coldplay." Nicole Polo(clarinet '14),asked, "what's the word for always needing to pee?"
Hour 3-5—Outfitted in fancy portable radios, with name-tags that made them really official, we finally start rehearsing in the stadium. Just a couple of feet away from the other performers, it is safe to say we are all a little starstruck. Pedro Chinchilla, (tenor drum '15) recalls , "Coldplay, Beyonce, AND Bruno Mars all in one spot… enough said!"
Hour 6—Freezing from the wind, we exit the field to the hope of food and the promise of pre-recording. As the sun goes down, we watch a cart of pizza get wheeled past us and learn that Will Chambers of Coldplay will be joining us to record. Surrounded by microphones and giddy with excitement, we play our part in "Paradise," "Fix You," and the Finale. Susheel Krishnamurthy, (snare '15) was lucky enough to personally interact with Mr. Chambers. "We gave him my second pair of sticks to hold while we were jamming, which was AWESOME" Krishnamurthy recounts. "I'm gonna keep those sticks forever." We also had the pleasure of chatting with conductor Gustavo Dudamel, who would be directing the Youth Orchestra of Los Angeles. This definitely induced a lot of "freaking out" from our bandsmen.
Hour 7-the end (late)—WE ARE FED! And, fit for uniforms. The bright pink, yellow, and orange uniforms are definitely overwhelming at first, but once everyone is fit, they seem to be just right for the show we had seen in the works. We leave the stadium only to return less than twelve hours later, exhausted but definitely excited.
Day 4: Thursday, February 4th
Hour 1-2—Once again we go through various stages of security only to discover that our neighbors in UCCE are joining us in this rehearsal! Davis Perez (trumpet '15) comments on the nature of our marching pants as we were in full uniform for this rehearsal. He says, "I've never been able to wear these pants without having very clearly defined butt cheeks." True.
Hour 2-4—Ushered back and forth from the practice field to the stadium, we run the show a few more times, but this time in full uniform! Before we reenter the stadium, Bob reminds us that, "you don't want to be that one person to mess up on national television." When running through our part we had to incorporate, as Cerny would say, "a laundry list of notes." There would be "edits to the show that we would need to accommodate for the next rehearsal, with no time to practice in between," says Cerny which while difficult, was doable.
We weren't the only group making changes: Beyonce's outfit always seemed to be new, Coldplay's Chris Martin no longer crowd surfed for his entrance, and the "Viva Flags" (tall flags that surrounded the stage when Coldplay performed "Viva La Vida") seemed to have a little difficulty with their positioning and timing. "I have a lot of respect for all the cast and crew who make this show great," says M.J. Balyuot (alto '15). "Our coordinators maintained a positive attitude despite the high-stress environment."
Hour 5—We load the truck up with our instruments and head home!
Day 5: Friday, February 5th aka the LAST day
Hour 1-4: We do one run of the show, beginning to end. For the first time we are incorporating all the little details, including running on and off the field. It is definitely beginning to feel real now.
SUPER BOWL SUNDAY:
One phone was allowed, so we have an actual timeline for this day.
9:00am: We load the buses and take one last trip up to Santa Clara!
10:30am: Well, ok not quite Santa Clara. We are now at a secret holding area with all the other Halftime cast. We take pictures with Brian, our stage manager, eat a quick lunch and then head to the stadium.
11:00am-3:30pm: Wow, wow, wow. We are all suited up and ready to perform! The game is playing in a tent on our practice field, and we are patiently waiting. As we wait, Clay Sample (mellophone '14)wonders, "how many ducks it would actually take to take down the Empire State Building??". Willie Ross (tenor drum '14) also contributed, saying "Nothing is on my mind because thought is an illusion we create for ourselves." Existential thoughts in the wake of an unforgettable performance.
3:30-5:30 pm: Now, we wait in lines. As we wait, Bob mocks Alex Dominitz and Delia Peterson, two senior clarinet players, who are marking their moves in the parking lots. As line leaders, the two had an extra responsibility to ensuring the band's success in the performance as they led us onto and off of the field.
5:30 pm-5:42 pm: The fastest 12 minutes of our lives. The crowd is erupting in cheers, we are focusing harder than ever on our show, and the halftime show for Super Bowl 50 is officially on. Full of adrenaline, we bound off the field, the fact that we just performed for over 100 million people not quite setting in yet.
6:00-8:00pm: The bus ride back to Berkeley is full of tears. Finally able to release to the public the fact that we were involved in this performance, our social media pages are now erupting. Family members send us blurry pictures taken of us from their televisions, and we all swear never to remove our wristbands. I think we all agree with Mary Munoz piccolo '15), that this "is definitely an experience I [we] will never forget!"
-Gillian Perry, Clarinet