One week before GBO starts in the Fall Semester, the Band holds its annual Fall Training Program (FTP). Before GBO begins, the entire Band goes on a three-day retreat to U.C. Davis, where new students are given a crash course in marching and older students are allowed to perfect their form. Also during FTP, the Band rehearses its extensive repertoire. After this retreat, the Band continues with FTP at the Berkeley campus. This provides the Band with the necessary time to learn our pregame show. Students often find this time helps in orienting them with the University and the bandsmen before classes begin, often establishing friends within their classes or study groups.
Check in for FTP 2018 will be held between 11:00 a.m. and 4:00 p.m. on Saturday, August 11. Percussion will be required to attend an extra day on Friday, August 10, beginning at 10:00 am. FTP Davis will take place from the Sunday, August 12 through the morning of Tuesday, August 14. If you are interested in attending, please fill out an interest form for more information about joining the Band
What to bring to FTP: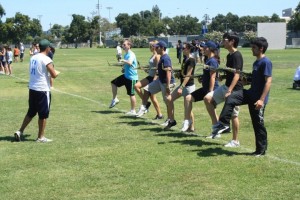 Comfortable athletic shorts or sweatpants
Athletic socks and shoes
T-shirts
Hat and/or sunglasses
Sunscreen
Pajamas
Bath towel
Slippers
Water bottle
Toiletries: shampoo, soap, etc.
Sleeping bag and pillow
Your instrument (unless the Band is providing one)
Energy and a "Go Bears" attitude!
No red clothes!