Straw Hat Band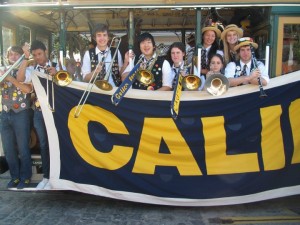 The California Straw Hat Band is a subgroup of the marching band that performs at many events throughout the year, during the fall, spring, and even the summer. The Straw Hat Band gets much of its exposure playing at away football games, and at men's and women's basketball games, but also supports other Cal sports like volleyball, ice hockey, swimming, gymnastics, lacrosse, baseball, and softball. Straw Hat Band performances are optional for all Band members.
In addition to sporting events, the Straw Hat Band can be seen throughout the year at numerous campus events such as CalSO Freshmen Orientation, Alumni functions, and local community events. During Big Game Week alone, the Straw Hat Band performs at over 50 events in and outside of Berkeley, whether at a rally, in a radio station, or even in various bars and restaurants.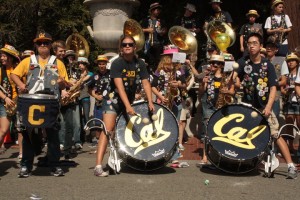 The California Straw Hat Band also has been given large amounts of media exposure. The Straw Hat Band has been heard on radio stations such as Wild 94.9, Live 105, KCBS 740 AM, KFOG 104.9 FM, KNBR 680 AM, seen in newspapers such as the San Francisco Chronicle, San Jose Mercury News, Sacramento Bee, and West County Times, and has been featured on KRON Channel 4's Sportscast with Vernon Glen, and the nationally syndicated game show "Wheel of Fortune."
We are pleased to announce the addition of the Golden Plume Band, which is also available for performances.
If you would like more information about Straw Hat Band performances, please see our page on How To Book the Straw Hat Band.