Performances
(Also see the Schedule and Performances page)
The Cal Band performs for a variety of functions around the University, the Bay Area, the state, and the country.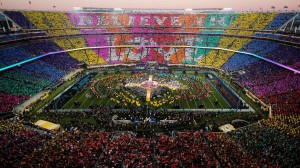 While the entire marching band is present at every home football game and the yearly away game in L.A., the Straw Hat Band, a volunteer-based division of the Cal Band, attends almost every away football game and each home basketball game in addition to performing at various private parties, parades, and sporting events around the Bay Area. Recent Straw Hat Band performances include performing at Pixar Studios, a halftime show for a San Francisco '49ers game, a halftime show for the Sacramento Kings; opening for Weezer; marching in the San Francisco Giants' 2010 and 2012 World Series Victory Parade; as well as performing in the Super Bowl 50 Halftime Show with Beyonce, Coldplay, and Bruno Mars.
Leadership and Academics
While marching season ends in the fall, opportunities for involvement with the Cal Band exist all year long! Some students choose to focus more exclusively on academics during the spring, and while they do not remain actively involved, they can continue to utilize the Band's academic services. The Cal Band is an excellent place for student leadership which doesn't end with football season. Year round work is put into the Band by its student leaders. After spring finals, local bandsmen and those who stay for summer school may continue to participate in Straw Hat Band performances, or may aid in the preparations for the upcoming fall marching season. During any time of year, the Cal Band encourages its members to remain active.

A Home in the University
About one quarter of our members live in the Band's house, Tellefsen Hall. Built in 1894, and conveniently located one block from the north edge of campus, Tellefsen Hall (or TH as it is commonly called) houses 44 students in double, triple, and quadruple occupancy rooms. Students of all ages, whether undergraduate or graduate, whether first year or fifth, enjoy the community dynamic, the joint house activities, and the great food (provided by our chef, Nick) that TH offers. Band members who do not choose to live at TH are encouraged to become a house social member in order to take advantage of house activities (such as formal dances, parties, and trips) at a low flat rate each year. Due to the convenience, the low cost, and the supportive atmosphere that TH provides, many bandsmen find their stay at TH enjoyable. All of these advantages make TH one of the most important services that the Cal Band offers its members each year.