Join Us
Interest Form
If you are interested in joining the Cal Band this fall, please fill out an interest form so that we can contact you. If you do not intend to join this fall, please wait until the year you expect to join to submit the interest form. If you have any questions about the Band, please contact our Recruiting Coordinator at calbandrec@gmail.com.
2013 Music Audition Instructions
Please see our auditions page.
Things To Know Before Joining
Letter from the Director
Dear Prospective Band Parents,
The University of California Marching Band has a long, proud history that dates back to 1891. From a group of eighteen players, the Cal Band now boasts a membership of nearly 200 and is a fixture at Cal athletic events and many campus and community activities. Membership in the Band helps to make a place like Cal (with its 30,000-plus students) a little more personal and the friendships that are forged last a lifetime.
The Cal Band is an extracurricular activity and members receive no academic credit. The time commitment ranges from a minimum of six hours per week to a maximum of eighteen hours per week. There are six Band officers (including myself) that manage all aspects of the organization.
Here are some Band statistics that answer the most commonly asked questions: membership is about half male and about half female; nearly half are "hard science" majors and less than five percent are music majors; about half of each incoming class (usually 80) stay in Band for four years; most of our members are able to balance academic demands and Band membership and graduate on time and lastly, we have a scholarship program in place for recruitment and retention based on "talent, financial need and commitment to leadership and service."
If you have any further questions, please do not hesitate to call me at (510) 643-9644 or email me at calonico@calband.berkeley.edu
Sincerely,
Robert Calonico
Director – University of California Marching Band
Cal Band Alumnus 1976

Academics
From performances to academics, the Cal Band offers a wide variety of opportunities to its members. Since the public at large is thrilled by the Cal Band's field shows, Straw Hat Band performances, and variety shows, it is often easy to forget why our members are here: education. However, the Cal Band offers a variety of academic support opportunities. Academic advisors, study groups, review sessions, peer course evaluations, and quiet study halls are just a few of the services we offer our members. Additionally, there is a great amount of peer support among our members. Current bandsmen's areas of study range from Chemical Engineering to Rhetoric. 55% of the Band is comprised of "hard science/engineering" majors. Because of both the number of people in the Cal Band and their variety of interests, members often have classes together. Thus, even if the Band doesn't offer a study group or review session for a particular class, students are easily able to find study partners before midterms, papers or finals. A large percentage of our members continue on to graduate study, including medical school, law school, and other graduate programs across the country.
In short, though maintaining the high performance quality of the Band is a time-consuming activity, our members' academic standards are encouraged and aided wherever possible. For more information on how we help our members to succeed at Cal, email our academic advisors at calband-acad@lists.berkeley.edu.

A Typical Week
Rehearsals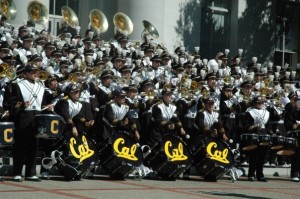 During the fall, the Band has a rehearsal regimen and a time commitment that, though heavy, can be completely manageable and rewarding for any college student. The fall season consists of music rehearsal on Monday and two-hour rehearsals every Tuesday through Thursday at Maxwell Field. On the weekends of home football games, there is an additional two-hour rehearsal on Friday and, of course, the entire game day on Saturday. In the spring, bandsmen can opt to focus on academics and postpone further involvement until the next fall, or can remain active by playing at basketball games or involving themselves fully in spring performances.
Hello, Saturday Morning!
It's Saturday Morning, Golden Bears! It's time for another day of Cal Football! But what does that mean for the primary spirit organization on campus? More than you might imagine. But with friends, family, and the support of thousands of Cal fans, the early morning wake-up isn't nearly as bad as it sounds.
Example Gameday Schedule:
9:30am Wake up!
9:45am Gather white shirt and black socks from the dresser
9:50am Leave the dorm! Fifteen minute walk from the dorms gets shorter and shorter each time.
10:00am Arrive at the Band Rehearsal Hall. Change into uniform pants, put on black marching shoes, white spats, and uniform hat.
10:15am Arrive at rehearsal field, greeted by donuts, bagels, milk, orange juice and friends.
10:30-12:30pm Rehearse! Work out last-minute adjustments to pregame show and halftime show.
12:45pm Gameday announcements. Prediction of the margin of this week's Golden Bear victory by alumnus and Cal Band Announcer Albert Locher, Assistant District Attorney of the City of Sacramento.
1:00pm Lunch Time! Cal Band parents serve a bounty of hamburgers, hot dogs, sodas, cookies, chips, salad, veggieburgers, candy, fruit, and other assorted snacks.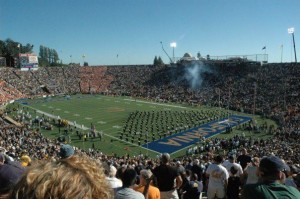 1:30pm Change into the rest of the uniform
1:40pm Rub the Bear's nose for good luck!
1:45pm Instrument tune-up, warm up
1:50pm Traditional retelling of last night's dream by the Drum Major (usually, how we're going to wow the audience over this week)
2:00pm Concert in front of Sproul Hall to gameday fans.
2:15-2:45pm March up through central campus up to Memorial Stadium.
3:00-6:00pm The game! Crowd excited by the thundering entry of the Band through North Tunnel onto the field. Halftime performance. Another week, another new performance, and another resounding applause by the student section. Postgame performance. Played toward the alumni, signaling the end of another Cal Football game. A performance for Bowles Hall, the oldest dormitory at Cal.
6:45pm Arrive back at Band Rehearsal Hall. End of the day announcements, one last performance of the school fight song for the audience still following behind us.
7:00pm A choice of sleep, study, or whatever!
Year-Round Opportunities
Performances
(Also see the Schedule and Performances page)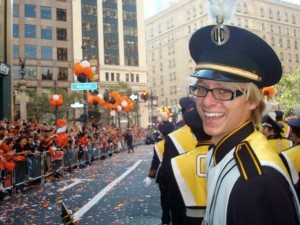 The Cal Band performs for a variety of functions around the University, the Bay Area, the state, and the country. While the entire marching band is present at every home football game and the yearly away game in L.A., the Straw Hat Band, a volunteer-based division of the Cal Band, attends almost every away football game and each home basketball game in addition to performing at various private parties, parades, and sporting events around the Bay Area. Recent Straw Hat Band performances include performing at Pixar Studios, a halftime show for a San Francisco '49ers game, a halftime show for the Sacramento Kings; opening for Weezer; and marching in the San Francisco Giants' 2010 World Series Victory Parade.
Leadership and Academics
While marching season ends in the fall, opportunities for involvement with the Cal Band exist all year long! Some students choose to focus more exclusively on academics during the spring, and while they do not remain actively involved, they can continue to utilize the Band's academic services. The Cal Band is an excellent place for student leadership which doesn't end with football season. Year round work is put into the Band by its student leaders. After spring finals, local bandsmen and those who stay for summer school may continue to participate in Straw Hat Band performances, or may aid in the preparations for the upcoming fall marching season. During any time of year, the Cal Band encourages its members to remain active.

A Home in the University

About one quarter of our members live in the Band's house, Tellefsen Hall. Built in 1894, and conveniently located one block from the north edge of campus, Tellefsen Hall (or TH as it is commonly called) houses 44 students in double, triple, and quadruple occupancy rooms. Students of all ages, whether undergraduate or graduate, whether first year or fifth, enjoy the community dynamic, the joint house activities, and the great food (provided by our chef, Justin) that TH offers. Band members who do not choose to live at TH are encouraged to become a house social member in order to take advantage of house activities (such as formal dances, parties, and trips) at a low flat rate each year. Due to the convenience, the low cost, and the supportive atmosphere that TH provides, many bandsmen find their stay at TH enjoyable. All of these advantages make TH one of the most important services that the Cal Band offers its members each year. Their website has more information.

Frequently Asked Questions
For Students
How do I audition?
There is a two-step audition process; the first in music, the second, in marching. The music audition must be scheduled with our director, Mr. Robert Calonico, by contacting him at calonico@calband.berkeley.edu or (510) 643-9644. For wind instruments it comprises of a short sight-reading piece, two to three scales, a chromatic run starting from the lowest note you can play to the highest note you can play, and an optional prepared piece no more than three minutes in length. Percussionists will need to sight read some exercises. In-person auditions are preferred; however, if this is not possible, a tape audition process is also available. The marching audition is held during FTP, though no prior marching experience is needed.
What is the time commitment?
The minimum time commitment with the Band is six hours of rehearsal per week, with two-hour rehearsals every Tuesday, Wednesday, and Thursday. On game weeks there is an extra rehearsal on Friday and on Saturday morning. Additionally, on most Mondays there will be a music rehearsal and sectional. All home football games are mandatory. Missing rehearsals is reviewed on a case-by-case basis. Other performances, such as Straw Hat Bands and everything in the spring semester, are entirely optional.
How should I schedule my classes?
Rehearsals next year will take place in the late afternoon, from 4:30pm until 6:30pm. If at all possible, please avoid scheduling classes that would conflict with rehearsal. However, if missing rehearsal is unavoidable, it is reviewed on a case-by-case basis.
What if I'm a Spring Admit?
If you are a spring admit, you can enroll with the University's Fall Freshman Extension Program and be a part of the Band. Many of our members join the Band in this way.
Will I get units or compensation?
Bandsmen do not receive any academic units or monetary compensation since the Band itself is a voluntary student group. We do get into athletic events (such as football, basketball, volleyball, and swimming) for free, and receive other additional perks at times. However, being in the Band is an extremely rewarding experience worth more than any form of payment. Scholarships and awards are available to select members.
How much does it cost?
There is no cost to be part of the Cal Band. However, Band members are expected to provide for their own uniform parts not provided by the Band (eg. white dress shirt, black socks, black shoes). There is no uniform rental fee.
Do I need marching experience?
The Cal Band is proud to be one of the few bands in the nation that still practices the rigorous and unique high step marching style. Since our style is very distinctive, students who have never marched before may be at an advantage because they do not need to "un-learn" any habits formed with corps-style marching. All the fundamentals are taught during the Fall Training Program.
What is the instrumentation?
The Band currently has the following instrumentation: piccolos, clarinets, alto saxophones, tenor saxophones, trumpets, mellophones, trombones, baritones, sousaphones, snare drums, bass drums, tenor drums, cymbals, and glockenspiels. The Band does not march any auxiliary units (i.e. color guard or dance team) because it is a show style band. If you play an instrument that is related to one mentioned above (flute players, for example, may want to consider playing piccolo), please consider joining the Band. Any other students with musical experience are strongly encouraged to learn an instrument before joining us.
For Parents
Does the band offer scholarships?
There are scholarship opportunities in the Band, ranging from $300 stipends for First-Year Bandsmen Awards to a renewable $3500 George Miller Scholarship with the Band, depending on excellence through performance and commitment to the organization.
Does the band offer housing?
Housing during the retreat portion of FTP is provided. In addition, the Band has a dormitory-like private house called Tellefsen Hall which houses 44 bandsmen throughout the year. The cost of living at Tellefsen Hall is significantly cheaper than living at the University Residence Halls, and includes food (with an open kitchen), utilities (electricity, water, and garbage), and a high-speed internet connection.
Does the band provide academic support?
The Band has an extensive Academic Advising Program. The Band's average GPA is actually higher than the University's average GPA. The academic resources available to Band members include a common class list available to all bandsmen, a textbook exchange, and a test bank that the Academic Advising Program maintains.
Does the band haze?
The Band is in full compliance with the University's Anti-Hazing Policy. There is no tolerance of any violation of such policy.
Are there any fees?
There are no fees for your son/daughter to join the Band.
How can parents get involved?
There are plenty of ways to help out with the Band during Saturday gamedays; please refer to our Parents section for more information.
Fall Training Program
One week before classes start for the Fall Semester, the Band holds its annual Fall Training Program (FTP). Before Welcome Week begins, the entire Band goes on a three-day retreat to UC Davis where new students are given a crash course in marching and older students are allowed to perfect their form. Also during FTP, the Band rehearses its extensive packet. After this retreat, the Band continues with FTP at the Berkeley campus. Held during Welcome Week, this provides the Band with the necessary time to learn our pregame show. Students often find this time helps in orienting them with the University, and new students particularly find FTP a fun way to experience the University firsthand.
Check in for FTP 2012 will be held on August 22nd. FTP Davis will take place from the 17th through the 19th. If you are interested in attending, please fill out an interest form for more information about joining the Band.
What to bring to FTP: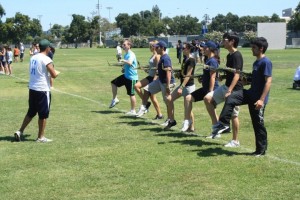 Comfortable athletic shorts or sweatpants
Athletic socks and shoes
T-shirts
Hat and/or sunglasses
Sunscreen
Pajamas
Bath towel
Slippers
Water bottle
Toiletries: shampoo, soap, etc.
A set of clothes you don't mind junking
Your instrument (unless the Band is providing one)
Energy and a "Go Bears" attitude!
Nothing that is red!! (We mean it! This includes Champion or Russell logos)